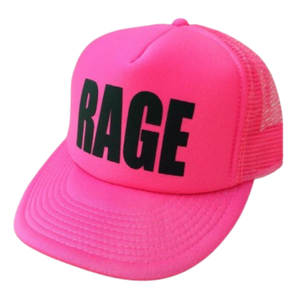 Get ready to take your festival and rave experience to the next level with the electrifying Neon Trucker Hat from RageHats! This one is the OG. 

First and foremost, Neon Pink is a color that can't be ignored. It's bold, daring, and sure to turn heads wherever you go. Whether you're at a music festival, a sporting event, or just out and about, a Neon Pink hat is sure to make a statement.
In addition to its attention-grabbing qualities, Neon Pink is also a color that represents femininity, love, and passion. It's a color that exudes energy and excitement, and can help you feel confident and empowered.
Neon Pink is also a versatile color that can be paired with a variety of other colors and patterns. Whether you're wearing a simple t-shirt and jeans, or a bold and daring outfit, a Neon Pink hat is sure to add a fun and playful element to your look.
Featuring an eye-catching neon design in vibrant colors, this hat is the perfect accessory to complete your festival and rave outfits. With its UV reactive neon glow, it's sure to stand out in any crowd, and make you the envy of all your friends.
But it's not just about the style - this hat is also designed for comfort and performance. The snapback style ensures a perfect fit, while the mesh trucker hat design keeps you cool and comfortable as you dance the night away to your favorite EDM beats.
And with its lightweight construction, you won't even notice you're wearing it - except for all the compliments you'll receive from your fellow festival-goers.
So if you're looking to make a statement and stand out from the crowd at your next music festival or rave, look no further than RageHats Neon Trucker Hat. Order yours today and get ready to take your festival experience to the next level!