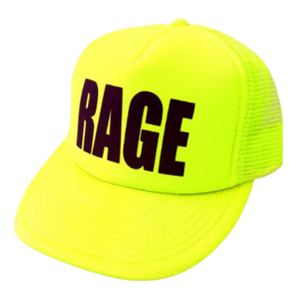 Looking for a hat that will light up your life? Look no further than the Neon Yellow Rage Hat from RageHats - the perfect accessory for anyone looking to blend in with the neon-clad crowds at their next rave or music festival.
Featuring a color that's brighter than the sun itself, this hat is sure to make you the center of attention - or at least give you a decent shot at it. With its UV reactive neon glow, you'll be glowing like a firefly in the night sky.
But let's be honest, the only reason you're really wearing this hat is so you can find your friends when you inevitably get lost in the crowd. I mean, who hasn't lost their friends at a festival or rave? It's practically a rite of passage!
And speaking of getting lost, with the Neon Yellow Rage Hat, you won't have to worry about blending in with the background. You'll be so bright, you'll practically be a walking neon sign. So when your friends inevitably ask you where you are, just tell them to look for the beacon of light shining from your head.
But in all seriousness, the Neon Yellow Rage Hat is a fun and playful accessory that's perfect for anyone looking to let loose and have a good time. So why not embrace your inner rave-goer and add a little extra neon to your life? Order your Neon Yellow Rage Hat from RageHats today, and get ready to light up the night!